How To Pin Any Web Page To Your Taskbar
Traders need quick and practical access to the platforms they work with in order to save time and increase productivity. We at BetterTrader recognize this and know that many traders use a desktop as their Trading base. Therefore we have put together a tutorial of how to pin any web page to your taskbar. In this tutorial we will use the BetterTrader app as our example but the steps outlined will work for any web page. You can pin the BetterTrader web app to your taskbar with no download required and thus make accessing your BetterTrader platform a simple and efficient one-click affair.
Below, we present a step-by-step explanation of how to pin the BetterTrader icon to your taskbar using the Google Chrome web-browser, our browser of choice at BetterTrader.
Step 1: Open the desktop version of the Google Chrome web browser or install it here.
Step 2: Open the Better Trader website: https://app.bettertrader.co

Step 3: Click on the "three dots" icon in the upper right-hand corner of the window (this will open a drop-down menu).

Step 4: From the drop-down menu click on the "More Tools" option (this will open a second menu).
Step 5: Select the "Create Shortcut" option from the second menu.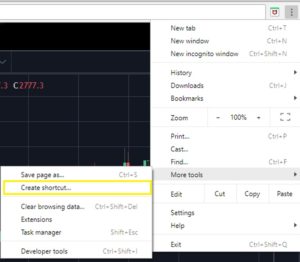 Step 6: A box will appear in the upper middle section of the window. Click on the blue "Add" button which is inside this box.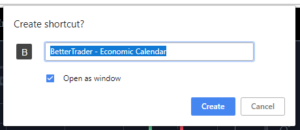 Step 7: Minimize all the windows and programs that are opened, until you see the desktop area.

Step 8: Find the Better Trader icon in the desktop area and right click on it.
Step 9: Select the "Pin to Taskbar" option.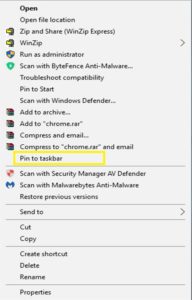 Step 10: Locate the Better Trader icon in the taskbar, and you are done. Now there is no need to download the app to your desktop; instead, just follow these steps, open your browser straight in the BetterTrader page and start trading.

For Mac, please follow this link to learn how to move Bettertrader as an application to your dock.
https://www.youtube.com/watch?v=qxNJKONlGbE.
Easier, simpler and quicker. Enjoy it. Try it for yourself at https://app.bettertrader.co. It will make your trading experience more convenient and enjoyable.